Special motorcycle shell for iPhone or Samsung Galaxy TIGRA Mountcase
Our shell is specially designed to secure your iPhone Smartphone while motorcycle traveling.
Shockproof, our TIGRA Mountcase motorcycle shell is manufactured using the principle of multilayer composite materials, the internal polycarbonate structure with a flexible thermoplastic coating envelope offers an excellent level of protection against everyday aggressions.
The edges of our motorcycle protective shell rise to the sides of your iPhone Smartphone, avoiding scratches when the device is placed down screen and eliminating the risk of a direct impact with the screen in falling case.
Our special TIGRA Mountcase motorcycle shell is compatible with all Fitclic mounts in the range..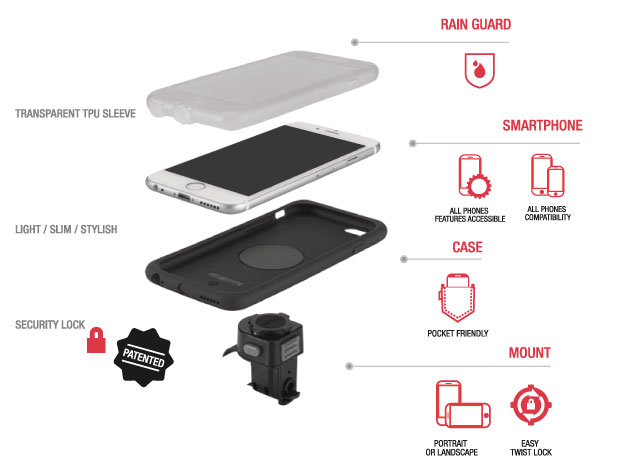 Other important features :
Our motorcycle protective shell is shockproof, slim, fits in the pocket of your motorcycle clothing but is also very easy to use everyday.
The composite structural coating is smooth to the touch to ensure maximum handling comfort.
The edges of our shell cover the sides of your iPhone smartphone protecting the screen against scratches.
Our special motorcycle hull features rain protection included to ensure waterproofness and provides extra protection when traveling in rainy weather.
The Fitclic system guarantees a quick and secure attachment to the handlebars of your motorcycle even with your gloves.
Our iPhone Smartphone protection shell TIGRA Mountcase is compatible with all the mounts of the range Fitclic supports (Bicycle, Running Armband, Car, Flexi, etc ...)
The pack for motorcycle is composed included a shell TIGRA Mountcase for iPhone or smartphone Samsung Galaxy according to model as well as a protection against the rain