WOOLF - 

SPEED CAMERA LOCATIONS BRACELET

 FOR MOTORBIKE
WOOLF is the world's first anti-speedcam bracelet specially designed for motorcyclists.
For some years, your pleasure on motorcycle fell as multiplied the speed control systems.
The fault being the attention it necessary to keep on his speed for fear of fines.
Getting speed ticket on motorcycle by simply distraction while the speedcam location was known !!!
With this vibrating radar detector bracelet for bikers, you can stay focused on your ride without constantly check speed limits and other sensitive points of the road, the Woolf bracelet will do it for you.
At first glance, we see that the WOOLF bracelet is made of high-end leather, its beauty and quality already makes the bikers want to wear it.
WOOLF bracelet incorporates state-of-the-art technology for bikers security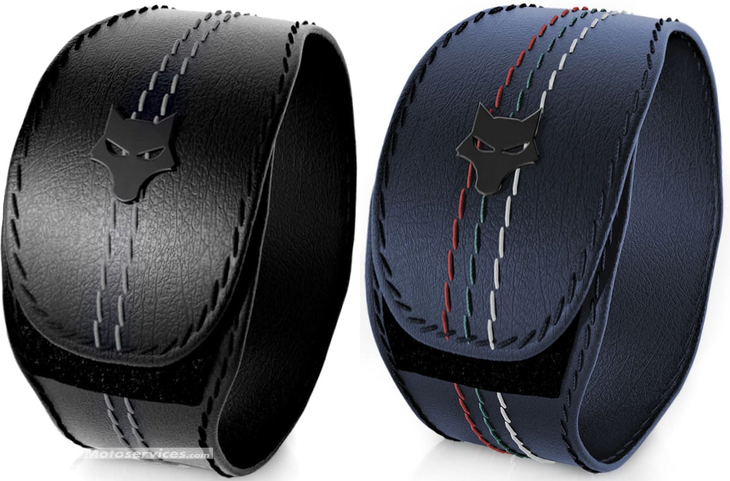 Good vibrations at your service !
Woolf is the first speed camera detector device suitable for motorcycle riders.
Woolf bikers bracelet is an anti speed camera system dedicated recover complete pleasure to ride with peace of mind, without distraction, while limiting risk to take speed ticket.
Specially developed for motorbikes used, it water resistant and designed for motorcycle gloves.
WOOLF ID bracelet is thin, smart on your wrist and comfortable even when you wear it with tight motorcycle gloves.
WOOLF Intelligent Drive app uses data bases from leading map service providers for speed limits and other sensitive points on the road.
This ultra-comprehensive database of control zones, danger zones and fixed speed cameras is daily updated and guarantees 99% precision in actually 70 countries in Europe.
Closer you approach sensitive point, more higher vibration frequency your WOOLF bracelet doing, allowing to reach suitable speed.

With more than 120,000 points of speed camera locations, mobile speed, traffic light camera and dangerous trails, ... Woolf is uncompromisingly reliable !
Woolf radar detector System works without specific GPS mapping, it based on a global map positioning method that synthesizes the data of a hundred or so manufacturers of navigation devices (Google Earth, TomTom, Garmin, among others). Alpine, Sigic, BMW, Fiat, etc.)
WOOLF ID already works in 70 countries that it covers at 99%, which means that more than 120,000 sensitive areas are currently listed and are updated daily.
WOOLF motorcycle radar location bracelet uses state-of-the-art global mapping technology and other data to provide you with exceptional accuracy and consistent updates.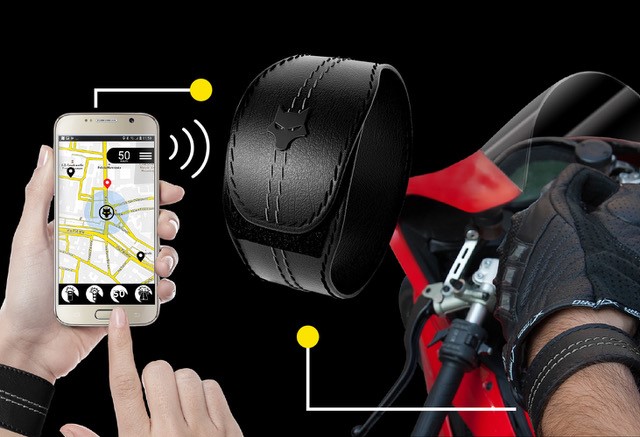 Motorcycle speedcam alerts WOOLF spec :
      R

echargeable lithium-ion battery

: Li-ion 3.7V - 120mAh

     

Micro USB rechargeable Accu with autonomy of more than a month !!!

     

Power supply: 5V / 0.5A

     

Configuration: iOS 9.3 - iPhone 5S and above - Android 4.4.4 - Bluetooth 4.0

     

Size of the bracelet: 26,5 x 4,7cm (available in XL version 30,5 x 4,7cm- only in blue)

     

Italian leather

      W

ater-resistant leather
Much more than other speed camera detector systems, WOOLF is also :
    

Alerts signaled by increasing intensity vibrations at approach the marked danger zones (stationary speed camera locations, most frequent locations for mobile speed cameras, traffic light cameras, danger zône, etc...)

    

A system linked to a database containing information from the road network of more than 70 countries with 120,000 points of attention reported *.

    

Free update / no subscription

    

Legal system in Europe

    

Warranty: 24 months
* WOOLF ID database is made up by over 100 navigation system providers around the world, including: Google Earth, Tom Tom, Garmin, Alpine, Sigic, BMW, Mercedes Benz, Fiat and many more...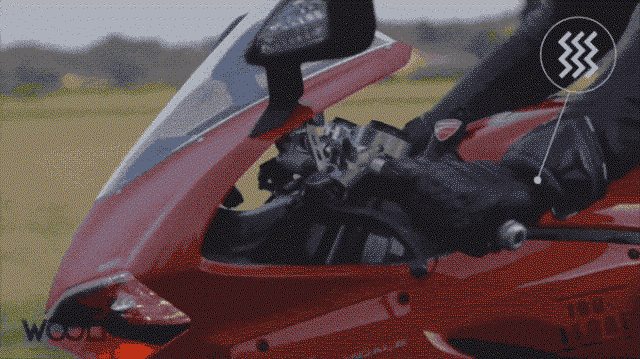 Designed to optimize your iPhone smartphone autonomy
WOOLF Intelligent Drive app is designed to optimize data exchange with dedicated servers.
To save iPhone smartphone battery, Woolf app turn on location services in background only inside controls areas.
Outside these areas, WOOLF ID operating system minimizes the use of your iPhone smartphone.
WOOLF anti speed camera app is really designed for bikers,
WOOLF bikers radar detector bracelet is connected to your smartphone (iOS or Android) by it's Bluetooth connection.
WOOLF application uses Machine Learning algorithms to avoid false information called "false positives" and ensure perfectly work in all situations.
You can customize alert notification level and check your location any time.
Speed camera and laser speed gun data base just like using power are optimized in real time to a maximum efficiency level.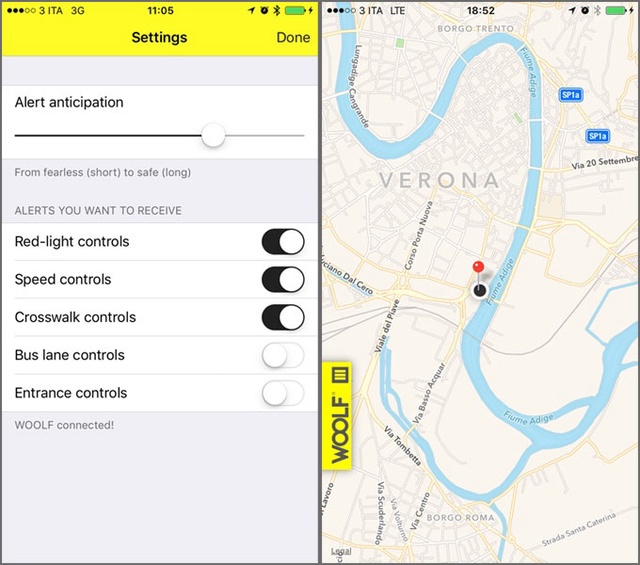 Motorbike speed camera location system fully legal in Europe !
WOOLF motorcycle speed camera detector system doesn't indicate the precise location of spee camera but a potential danger zone, this shade makes the Woolf bracelet completely legal in France.
There is also no problem using WOOLF speed camera alert in most EU countries because device doesn't interfere with speed cam good operating.
On the other hand, it will be necessary to avoid using WOOLF bracelet in Germany where it can be sanctioned, also in Switzerland, in Cyprus and Macedonian Republic where it illegal to use all types of device allowing to speed cam locate
Woolf speed camera alerts system Vs competitives devices.
Competing radar alerts require viewing or listening informations from their mobile phone or Sat system while driving. This practice is of course a material danger for iPhone smartphones exposed to weather attacks, but it is especially source of distraction for the biker.
Motorcycle bluetooth headsets or other headphones are also disturbing in a noisy environment of ride and prevent intercom communication with fellow bikers
Not to mention that an in-ear listening device is forbidden to bikers when used in both ears.
Vibrating Woolf bracelet allows bikers to keep all their attention on the road, while receiving at the right moment the information of speed cam or danger zone approach.
Other advantage of our speed camera alerts system,
Woolf speed camera alert bracelet will continue to transmit information when application will be closed or in 4G reception less.
This is important autonomius gain and reliability compared to competing device like Coyote and others app.
The radar database used by WOOLF currently covers more than 70 countries with more than 100,000 radars. The main countries covered by the service are: America, Asia, Europe, Andorra (AND), Argentina (RA), Armenia (ARM), Australia (AUS), Austria (A), Belgium (B), Bosnia and Herzegovina (BIH), Brazil (BR), Bulgaria (BG), Canada (CDN), Chile (RCH), China (RCC), Croatia (HR), Cyprus (CY), Czech Republic (CZ), Estonia (EST), Finland (FI), France (FR), France DOM-ROM (FRDR), Germany (D), Great Britain (GB), Greece (GR), Hong Kong (HK), Hungary (H), Iceland (IS) , Ireland (IRL), Israel (IL), Italy (I), Jordan (JOR), Kuwait (KWT), Latvia (LV), Liechtenstein (LI), Lithuania (LT), Luxembourg (L), Malaysia (MAL) , Malta (M), Morocco (MA), Namibia (NAM), Netherlands (NL), New Zealand (NZ), Norway (NW), Oman (OM), Paraguay (PY), Poland (PL), Portugal (P), Qatar (Q), and many more to come ...