Speed camera Keyring alert by WOOLF
Exactly same functionality as famous Woolf motorcycle speed camera alert wristband but a different approach to use.
Alert radar and danger zone by vibration in your pocket.
Doesn't distraction driver and is above all very discreet.
Whether you drive your car or ride your motorbike.
WHAT IS THAT ?
Key ring that, when in your pocket, work reliable and perceptible vibration when speed cameras, traffic cameras, control and danger zones approaching and more !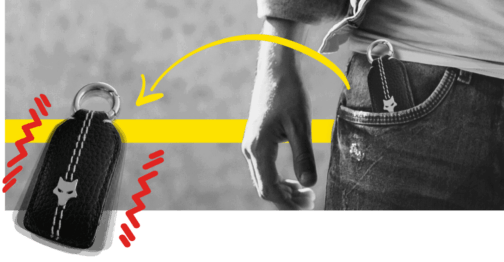 WHAT'S THE POINT ?
Indispensable to avoid fines, license points loss but also to draw road danger attention on.
Forget penalties by distraction !
SPECIFICATIONS
No subscription !
Rechargeable lithium battery with over month battery life by charge.
Compatible Android 7 - iOS 11 and later.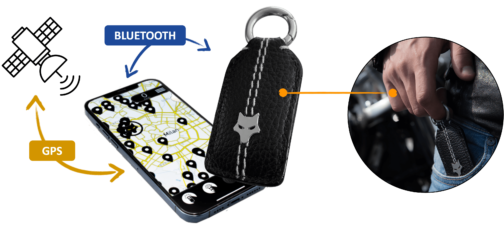 HOW IT WORKS ?
Bluetooth and GPS enabled.

over 90 countries with over 120,000 points of interest.

even screen off, calls in progress, helmet or motorcycle intercom connected.

doesn't require permanent internet connection !!!
HOW TO USE IT ?
Download free WOOLF_ID App on AppStore or PlayStore.

Pair WOOLF / Ring with your smartphone iPhone.

Register in one step, following procedure.

Choose your points of interest, warning distance and country you are.

Wear WOOLF and drive with peace of mind.
You also can join our community
By joining WOOLF community, you will be able to actively contribute to improve maps by changes reporting or new points of interest installation directly in app.
CHARACTERISTICS
Elegant, discreet and practical keyring, suitable for use in cars as well as on motorcycles.
Entirely made in Italy by master craftsmen with high quality water repellent leather.
AWARDS
We are very proud that Woolf Ring and our other products have been CES 2019 Innovation Award by Consumer Electronics Association of Las Vegas USA in the Wearable Technology category.
Other
With more than 120,000 fixed, mobile and traffic light radar points, Woolf is really reliable !
Woolf Speed camera Alert System works without GPS mapping. Woolf Intelligent Drive system based on global cartographic positioning method that synthesizes data from around 100 manufacturers of navigation solutions (including Google Earth, TomTom, Garmin, Alpine, Sigic, BMW, Fiat, etc.)
It already works in 70 countries and has 99% coverage, which means that more 120,000 hotspots currently listed and daily updated.
WOOLF speed camera alert uses advanced global mapping technology and other data to give you exceptional accuracy and constant updates.
WOOLF speed camera alert Keyring technical characteristic are :
Battery: Li-ion 3.7V - 120mAh
Micro USB rechargeable battery with more than one month autonomy !!!
Power supply: 5V / Amp : 0.5 A
Configuration: iOS 9.3 - iPhone 5S and later - Android 4.4.4 - Bluetooth 4.0
Italian leather
Waterproof
Much more than other speed camera detector, WOOLF is also :
Alerts by vibration with increasing intensity as danger zones approach (static radars, fire radars, section radars, risk zones, ...)

Database containing road network information from more than 70 countries with 120,000 points of attention reported *.
Free update / no subscription
Legal system in Europe
Guarantee: 24 months
* WOOLF database made up by more 100 navigation systems suppliers all over the world, such as: Google Earth, Tom Tom, Garmin, Alpine, Sigic, BMW, Mercedes Benz, Fiat and many more.
Designed to optimize your smartphone or iPhone autonomy powering.
WOOLF speed camera alert connected app designed to optimize exchange with data servers.
To safe iPhone smartphone powering, WOOLF app uses background location services only activated inside control areas.
Outside areas, WOOLF operating system requires iPhone smartphone minimal use.
All about WOOLF anti-radar app,
WOOLF app uses autolearning algorithms to avoid bad information called "false positives", thanks to this technical innovation, Woolf keyring work optimal in all circumstances.
You can also customize alert notifications level and any time check your position.
This is how data transfert and powered supply work to all time optimized maximum efficiency.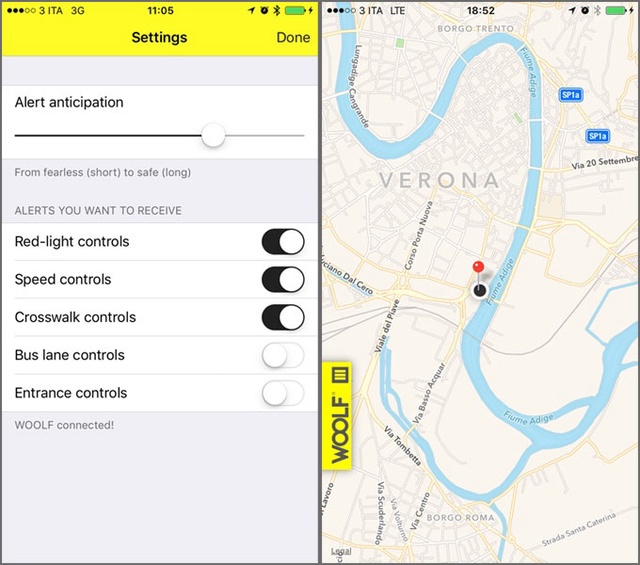 Speed camera alert legal speed in Europe !
Our speed camera alert doesn't point precise speed camera location but potential danger zone, this particularity makes Woolf speed camera alert completely legal in France, Belgium, Netherland, ...
No problem using Woolf speed camera warning system in most European Union countries, as our device doesn't interfere with speed detectors operating.
However, you should avoid using WOOLF keyring in Germany, Switzerland, Cyprus and Macedonian Republic where it can be fined. Use this device type is illegal in these countries.
Woolf Speed Camera Detector advantages over competition.
Competing speed camera alert force driver to visually consult or listen device information coming while driving, this practice obviously expose drivers and bikers to dangerous distraction source.
Use Coyote or wase type app via Bluetooth headsets or other headphones is also disturbing in noisy environment and prevents intercom communication with fellow drivers or bikers.
Not to mention that in-ear listening device is prohibited for bikers when it used in both ears.
Woolf vibrating bracelet or ringkey allows riders and drivers to keep full attention on the road, while receiving timely speed camera or danger notifications.
Another Woolf speed camera alert system advantages,
Woolf Speed Camera Warning will continue to provide alerts even app closed or if 4G reception not available. This constitutes huge gain in autonomy and reliability compared to competing app.
Speed camera database used by WOOLF currently covers more than 70 countries with more than 120,000 speed cameras. Main countries covered by the service are: America, Asia, Europe, Andorra (AND), Argentina (RA), Armenia (ARM), Australia (AUS), Austria (A), Belgium (B), Bosnia and Herzegovina (BIH), Brazil (BR), Bulgaria (BG), Canada (CDN), Chile (RCH), China (RCC), Croatia (HR), Cyprus (CY), Czech Republic (CZ), Estonia (EST), Finland (FI), France (FR), France DOM-ROM (FRDR), Germany (D), Great Britain (GB), Greece (GR), Hong Kong (HK), Hungary (H), Iceland (IS) , Ireland (IRL), Israel (IL), Italy (I), Jordan (JOR), Kuwait (KWT), Latvia (LV), Liechtenstein (LI), Lithuania (LT), Luxembourg (L), Malaysia (MAL) , Malta (M), Morocco (MA), Namibia (NAM), Netherlands (NL), New Zealand (NZ), Norway (NO), Oman (OM), Paraguay (PY), Poland (PL), Portugal (P), Qatar (Q), and many more to come ...