Motorcycle iDashcam : Camera & Retro-Camera for Bikers
This incredible motorcycle camera will be black box to disculped the biker in case of accident.
It captures beautiful landscapes crossed during nice ride with friends.
And for more experienced pilots, iDashcam will record their exploits on racetrack ...
iDashcam Camera is really thought by bikers for bikers,
Motorcycle iDashcam is not an any simple onboard camera, it real view capture device fully designed according to the criteria of comfort and safety for riders.
iDashcam has a control display with color screen to install on the handlebars but also under the saddle.
Waterproof control display allows you to view the front and rear cameras and recordings in memory, it also allows you to customize the settings of iDashcam.
TecnoGlobe iDashcam motorcycle is equipped with WIFI connection !!!
Thanks to WIFI connection, you can view and retrieve your recordings directly on your iPhone Smartphone.
iDashcam App's is Android and IOS compatible and will allow to access all features, view your recordings and turn your iPhone Smartphone into control screen of your recording equipment.
Motorcycle iDascam equipped motion detection
By motion detection function activation, your motorcycle becomes a real surveillance device.
A record of everything crossing through the front and rear fields of your motorcycle will automatically done at 155 ° angle.
This function be interesting to protected against any vandalism or sabotage acts on your motorcycle.
A waterproof control-switch with built-in microphone
iDashcam motorcycle recording device is equipped with a priority recording control-switch on the handlebars.
This slim and discreet button perfectly integrates your motorcycle's handles controls, waterproof and equipped with an integrated microphone, it allows you to start a priority recording in particular situations cases.
This type of priority recording will not be erased from memory and may be set with higher high definition criteria.
Front and rear camera : Full HD 1080p
Camera / retro wide angle camera at 155 °
Simultaneous front and back recording mode
Automatic recording at start
Loop recording: Old videos are erased automatically, so no need to manually empty the memory card
Auto power off when stoped the engine
Screen 6.86 centimeters 
H.264 encoding compression
Memory card capacity: up to 256 gb micro SD not included
Built-in microphone / speaker
Priority Record switch
Polymer Battery
Pug and play wiring connection
Central unit/screen waterproof IP67
Waterproof camera: IP 68
12 volt battery operation or USB 5V power bank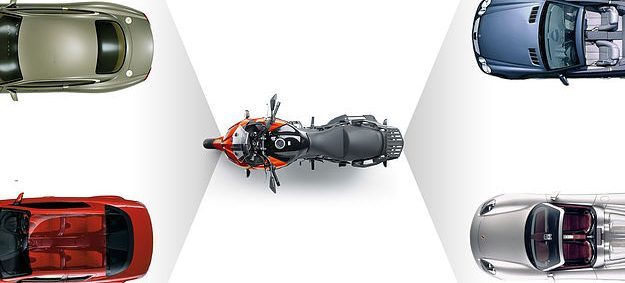 IN THE BOX :
Mounts for cameras and screen