SHAPEHEART - An incredible smartphone pouch for bikers.
Shapeheart Smartphone sleeve for motorcycle handlebar
Shapeheart motorcycle Cell phone pouch is equipped by powerful magnetic holder, internal compartment design allows Shapeheart sleeve accommodate almost all smartphones and iPhones on the market.
Shapeheart powerful magnetic mount

,
Magnetic support making connection between your motorcycle and Shapeheart sleeve is under patented innovation, exceptional power of holder can up strong to 50 times weight your smartphone. On motorcycle handlebars, tests carried out on race track have shown total screen stability up to 215 km/hour (134MPH) and hold guarantee up to 280 km/hour(174MPH).
Shapeheart permanent magnet connecting stability is lifetime guaranteed !!! 
SHAPEHEART - Ideal protection for your smartphone or iPhone,
Waterproof textile combination used to make SHAPEHEART pouch guarantees perfect external elements protection, including at high speed and rain trips.
Shapeheart sleeve textiles characteristics also protect smartphone or iPhone against vibrations and variations in outside temperature which could damage electronic devices.
Touch screen friendly and much more ...
Shapeheart cover is perfectly touchscreen friendly, but it also ready to used "face id" function and optical fingerprint sensor equiped smartphone iPhone last generation.
Shapeheart magnetic Smartphone Pouch fits your motorcycle handlebars,
SHAPEHEART mounting is quick, without tools and on any motorcycle handlebar. Whether your motorcycle or Scooter is equipped with a tubular, angular, streamlined handlebar or whether you ride sports motorcycles equipped with half-wristbands, the Shapeheart cover will fit on any support with a circumference of between 6,5cm to 16cm (2.4" to 6.3") or curved surface matches with SHAPEHEART support rubber base.
You can choose landscape or portrait mode viewing depending app used when traveling on the motorbike.
For fully streamlined maxi-scooters handlebars, we recommend to use oversized straps, reference SPH-STRAP-XL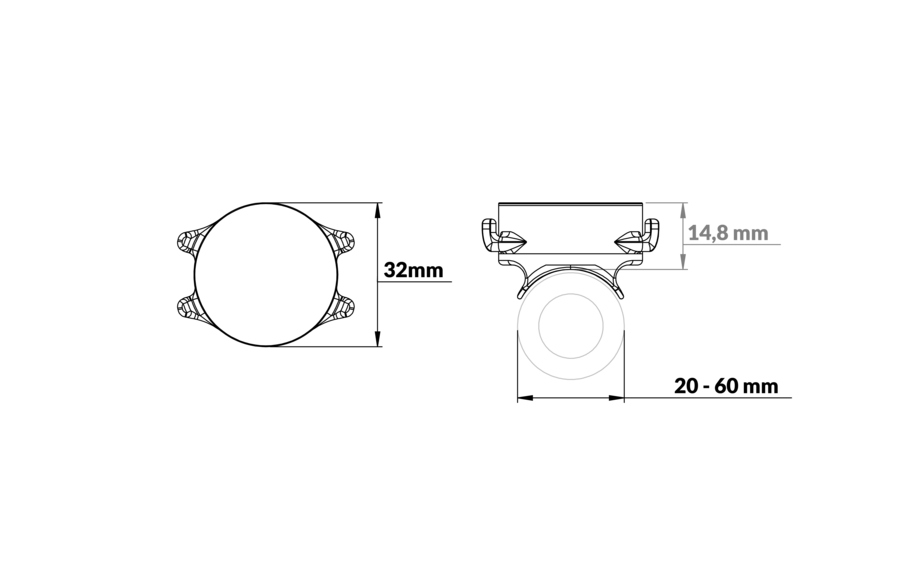 32mm(1.3") - 14.8mm(0.55") - 20-60mm(0.79"-2.36")
Shapeheart motorcycle sleeve is also equipped by cable opening. You can easily power your smartphone on the road or listen informations via wired headphones if you don't want equip yourself with CARDO Bluetooth system.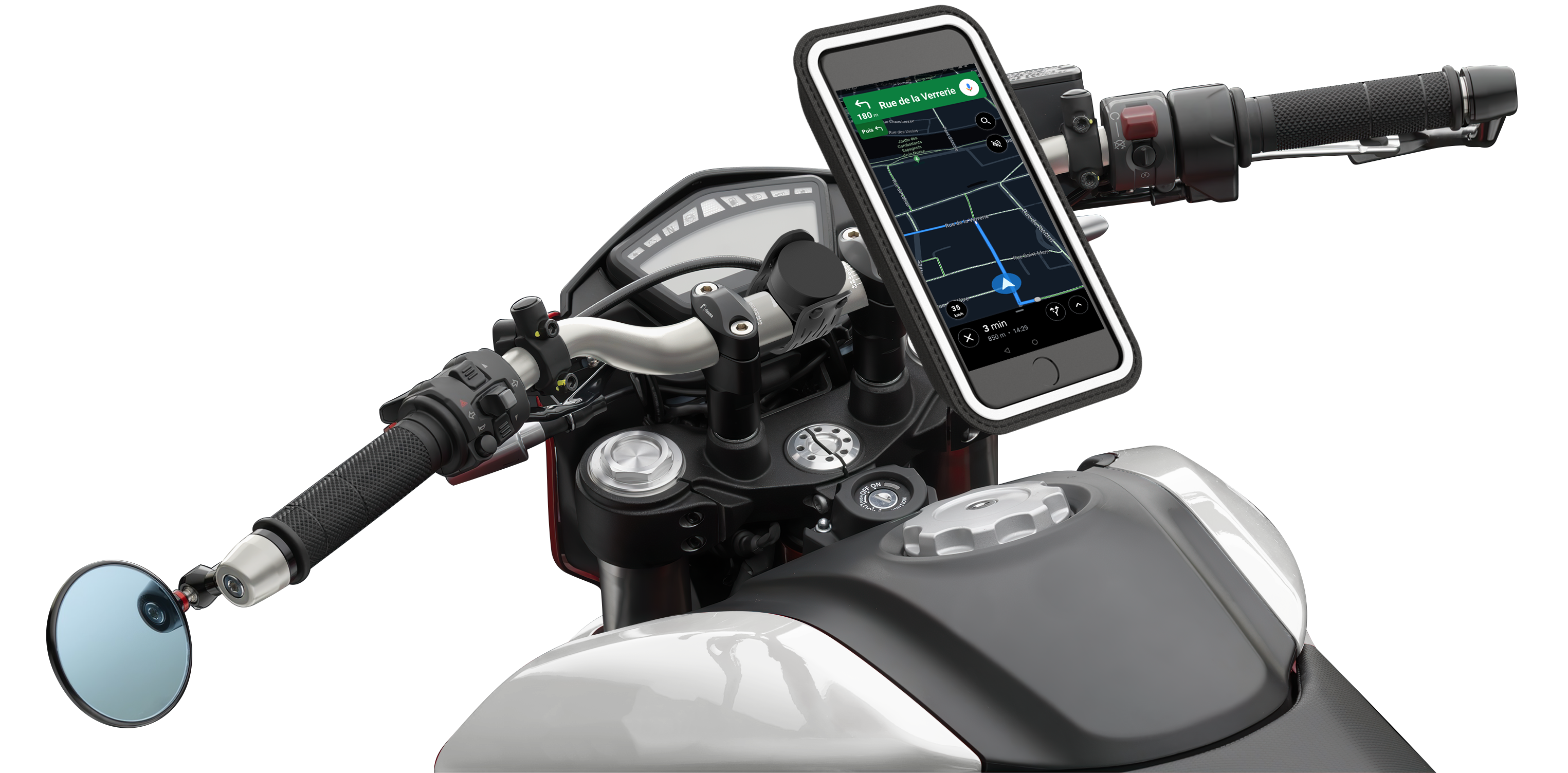 Shapeheart Motorbike - Versatile pouch available in two sizes :
Which one to choose ? 15cm(5.9") - 16.8cm(6.6")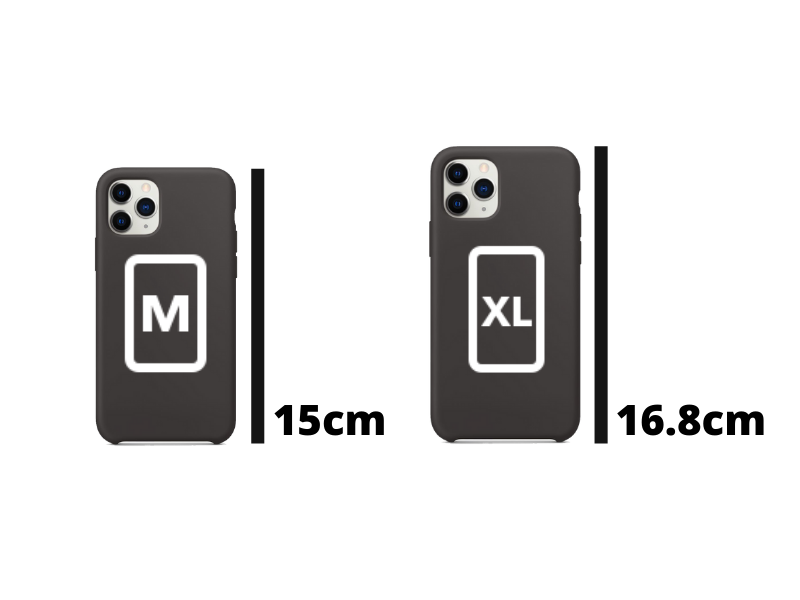 Here non-exhaustive smartphones and iPhones list compatible with Shapeheart ,
For M version pouch:
IPhone

SE, 6 , 6S , 7 , 8 , X , XS, 11 Pro

SAMSUNG

A3, A5, A6, A8 (2018), A40, A20e, J5 (tous), J6, S6, S6 Edge, S7, S8, S9, S10e

HUAWEI

Y5 (2019), Y5 Lite (2018), Y6 (tous), P8 (tous), P9 (tous), P10, P10 lite, P20, P20 lite, P30 Lite

ONE PLUS

X

XIAOMI

Redmi 5A/6/6A/Go, Mi 9 SE/A2 Lite

HONOR

6A Pro, 6C Pro, 7s, 8, 9, 9N, 9i, 10

SONY

Xperia L1, XZ, XA1, XZ1, XZ1 Compact, XA2, XZ2 Compact

ASUS

Zenfone 3, 5, Max (M1), Lite (L1), Max (L1), Live (L1)

MOTOROLA

E4, X4, One, C, C Plus, G5

WIKO

Upulse lite, Wim Lite, Tommy2, Lenny4

NOKIA

2, 3, 3.1, 5, 5.1+, 6.1, 6.1+, 7, 7.1, 8 Sirocco

LG

Q7, Candy, K30, K10

Google

Pixel, Pixel 2, Pixel 3

And more,
For XL version pouch:
IPhone 6+, 6S+, 7+, 8+, XR, XS max, 11, 11 Pro Max
SAMSUNG A20, A20s, A50, A50s, A60, A7, A70, A80, A90, A8, A8s, A9, J4+, J6+, J7 (all), J8, S7 Edge, S8+, S9+, S10, S10+, Note 8/9/10 Pro/10, M20

HUAWEI Nova (tous), Enjoy (tous) Y6, Y7 (tous), Y9 (2018+) P10 +, PSmart, PSmart +, PSmart Z, P20, P20 pro, P30, P30 Pro, Mate 20, Mate 20 Pro/Lite

ONE PLUS 1, 2, 3, 3T, 4, 4T, 5, 5T, 6, 6T, 7, 7Pro
XIAOMI Mi 8/8 Pro/8 Lite, A1, A2, Mix 3, Mix 2, 2S, Redmi Note 5/5 Pro/6 Pro/7/7 Pro/8/8a, Redmi S2, Redmi5, Redmi K20
HONOR 6X, 7A, 7C, 7X, 8X, 8A Pro, 8 Pro, 9 Lite, 10 Lite, 20, 20 Pro/i/Lite, View10, View20, Play
SONY XZ Premium, XZ2, XZ2 Premium, XZ3, Xperia 1/10/10+/X, XA1 Ultra, XA1 Plus,

  

XA2 Plus, Xperia L1/L3
ASUS Zenfone Max + (M1), 4 Max +, 4 Max, 4 Pro, 5 lite, 5, 5z, 5Lite, Max (M2/M1), Max Pro (M1/M2), 6
MOTOROLA Z2 (tous), Z3 (tous), E5 (tous), G6 (tous), G5s, G5s +, G5+, P30, P30 Note, One Power, One
WIKO View, View XL, Prime, Max, View 2, View 2 Pro, Max, Plus, Go, Wim
NOKIA 3.1+, 5.1, 6, 7+, 8, 8.1, 9 Pureview,
LG G7 Thinq, Q Stylus, Q9, V40 Thinq
Google Pixel XL, Pixel 2 XL, Pixel 3 XL, Pixel 4XL
OPPO RX17 Pro, Find X, F11, Reno, A5, A9


And more,
*i

ntro

duct

or

y offer

,
For 50 first customers, Shapeheart support will be delivered with carrying bag, silicone strap and large diameter elastic set ideal for American motorcycle handlebars.