TOMTOM RIDER 550 World
Discover your next adventure over the world
Conquer the roads with the best, carefully selected routes of the world - exclusively available for synchronization with your Rider 550.
With the new tomtom rider 550, improved connectivity you are now able to wirelessly update your firmware or im- and export routes via the new built-in WiFi port.
The new supported voice control allows you to operate your phone using Google Now and Siri.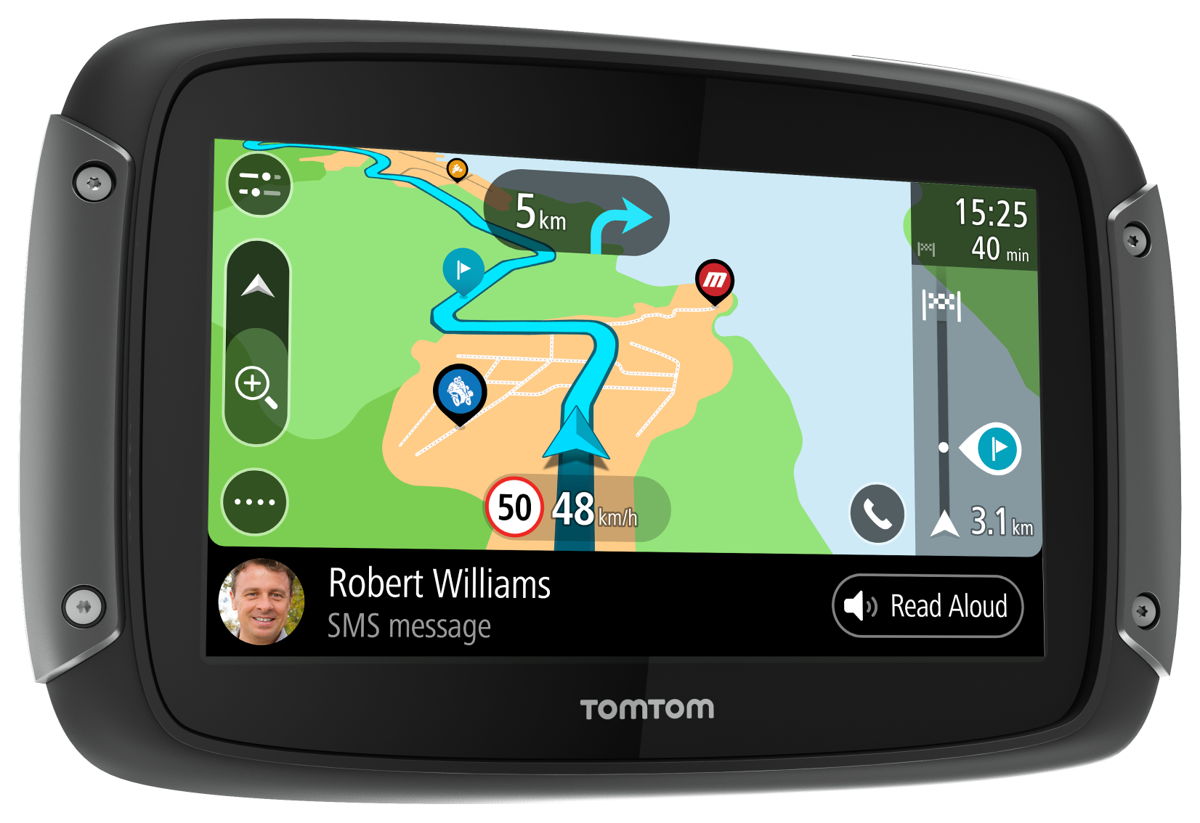 Ride challenge level with new RIDER 550. Plan windy and hilly roads
With RIDER 550 discover the world's best curated riding routes, exclusively
Updates via Wi-Fi®. No computer needed
Discover, personalise and enjoy stunning riding routes with tomtom MyDrive
Your tomtom RIDER 550 compatible with Siri and Google Now™
Smartphone messages read aloud, hands-free calling by Bluetooth or integrated speaker/micro
Lifetime* Worldwide Maps, TomTom Traffic and Services
Double the processing speed and five times faster start-up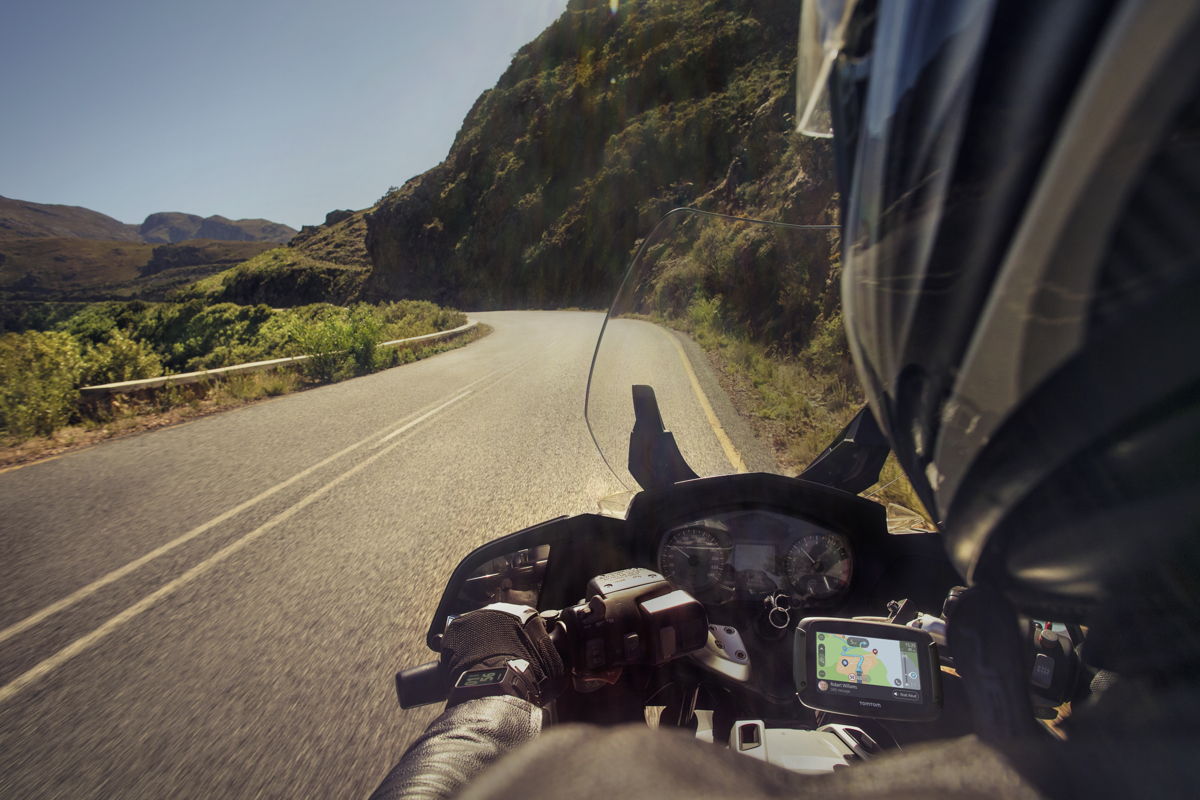 Features:
smart 4,3 inch touchsreen: adaptable to ambient light and thin and heavy gloves
Black spot and jam tail warnings
Road maps for 152 countrys of the world** installable (maps of Europe preinstalled) including Lifetime Maps*: Free lifelong map updates mean that all your maps, addresses and points of interest are always up to date*
motorbike specific hotels, museums, meeting points and even mountain passes
The worlds best curated routes pre-loaded
Planning exciting routes: You decide how much excitement your tour is going to offer. The Exciting Tour planning function enables you to choose how winding the road your route will be.
Plan, search, create, edit and share your routes: Use your preferred tour planning program on your computer, and then synchronise this data with your TomTom Rider. Share your route with other riders before you set off, while you're on the road, or after you get back home.
MyDrive Motorcycle Route Planning: Use MyDrive website to create your own thrilling trips and sync them instantaneously to your device.
Lifetime Maps*/**: Free lifelong map updates mean that all your maps, addresses and points of interest are always up to date*/**
Lifetime TomTom Traffic*: Get intelligent routes that avoid traffic in real-time for the lifetime of your motorbike sat nav.
Route recording: Save your tip and repeat the adventure afresh whenever you like. Record your journey from beginning to end, including spontaneous detours or short-cuts, and share it all with fellow bikers. Your most recent trips are automatically saved on your TomTom, so you can relive the whole adventure all over again any time.
Fast search: Find your destination faster with the intuitive search function. The fast search starts as soon as you start to type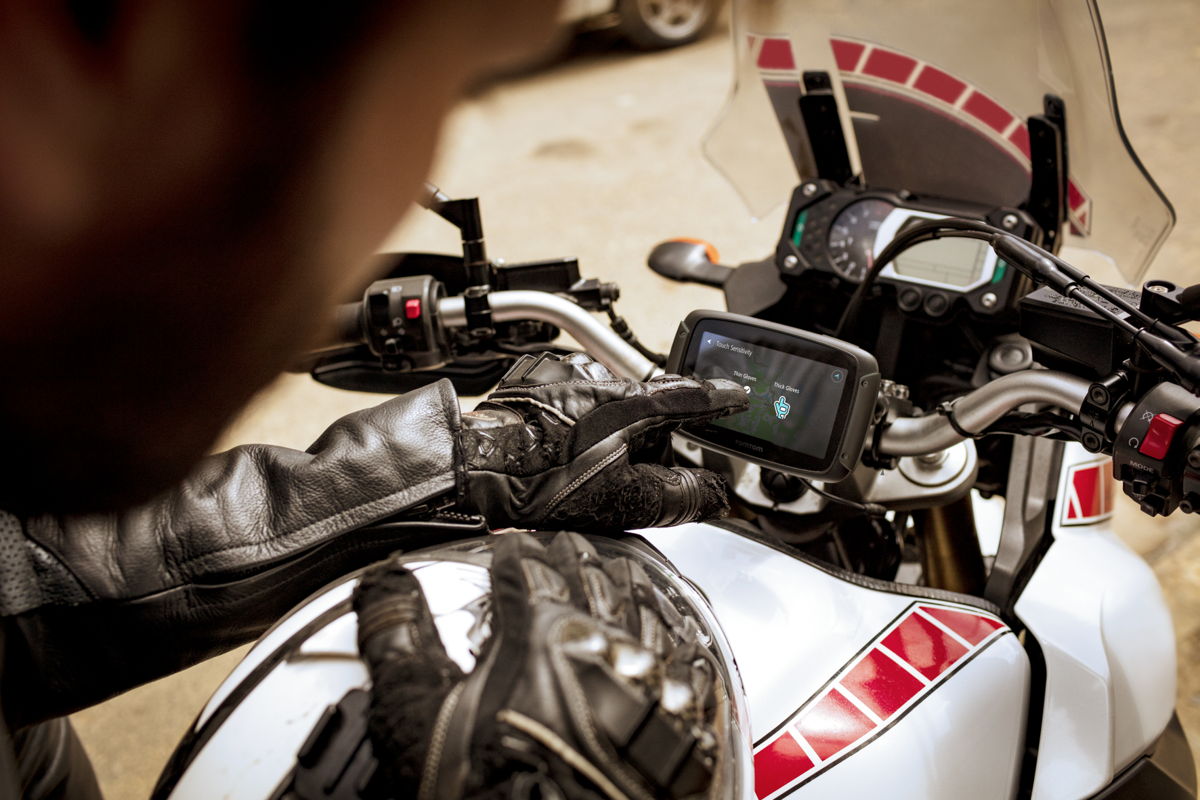 Other Features: 
Sturdy, waterproof and vibration-protected case (IPX7)
Sturdy RAM Universal Motorcycle Mount, compatible with 22mm and 25.4mm (imperial) handlebar tubes, withstands strong vibration
Power supply from your motorbike's electrical system via battery power cable
High-contrast 4.3-inch wide-screen display, glove-friendly and easy to read in direct sunlight
Smartphone Connected - TomTom Traffic, TomTom Speed Cameras, QuickGPSfix via Bluetooth from your smartphone*
Bluetooth interface - for transmitting navigation directions to Bluetooth-enabled headsets
Hands-free system: the TomTom Rider forwards phone calls from your mobile phone to an optional Bluetooth headset via a Bluetooth link so that you can talk safely without taking off your gloves or helmet (Bluetooth headset not included)
Advanced Lane Guidance (makes it easier to get into the right lane as you approach junctions and motorway intersections)
Journey logging and route recording
TomTom IQ Routes - intelligent, customised routing
PC Route Management via Tyre Pro software - Use Tyre to search, create and edit routes on a PC before uploading them to your device (Internet-Download via voucher code / Tyre route planning software is only compatible to Windows XP and later).
Fully updatable operating system means you can take advantage of new features and updates as and when they appear
Also suitable for use in your car (requires a separate car mount - only available in the Rider 550 Premium Pack)
Speed limit indicator shows the permitted speed in towns and on main roads and motorways
Country coverage: Maps for 152 countrys of the world (further details in our Documents category on this page)

Clear, precise step-by-step spoken directions in the following languages (via optional Bluetooth headset or optional car mount): 
Bulgarian, Cantonese, Czech, Danish, Dutch, English (Australia), English (GB), English (USA), Estonian, Finnish, Flemish, French, German, Greek, Hungarian, Italian, Japanese, Latvian, Lithuanian, Malay, Mandarin, Norwegian, Polish, Portuguese, Romanian, Russian, Serbian, Slovenian, Spanish, Spanish (Latin America), Swedish, Thai, Turkish
Specs: 
Dimensions (W x H x D) approx. 136.8 x 88.40 x 30.50mm
Screen: WQVGA TFT colour display (resolution: 480 x 272) with 4.3 inch (10.9cm) diagonal
Power supply: integrated lithium-ion rechargeable battery
Run time: up to 6 hours
Weight: approx. 280 g
Compatible with Windows® XP or later version & Mac OS X 10.5.8
Tyre route planning software is only compatible with Windows XP or later
Comprises:
TomTom Rider 550 world
RAM Universal Mount for 22 mm and 25.4 mm (imperial) handlebar tubes, Active Bike Dock mount and 12V battery cable
USB cable
access to road maps for 152 countries of the world**
Quick-start guide
*Receive TomTom Traffic, Speed Cameras (not available in all countries) and download 4 or more full updates of your pre-installed map every year, for the life of your product. You need a PC with an Internet connection and a MyTomTom account to download map updates. For more information, visit tomtom.com/lifetime. Smartphone Connected: Get TomTom Traffic and Speed Cameras via your smartphone with Bluetooth connection. Your smartphone needs to be compatible and come with a data plan. Extra costs may apply, check tomtom.com/connect for more information.